Login
Log in if you have an account
Dont have an account? Register
DIY Sterilization Tent
20 May 2020
Customer's Idea: UVC Sterilization Tent 
With the continuing pressure of COVID-19 weighing in on essential workers and families around the world, we've been listening and learning from our customers on the best practices to remain safe and sanitary. Concerned about the risks of transporting the novel coronavirus home to her family, an essential worker at a local Wyandotte County hospital reached out with an idea for an at-home sterilization tent. We were clearly intrigued by the customers idea and asked for her to follow up with us in 30 days and let us know how it turned out. We now have permission to share her story.
Content of the Email
Jason,

First off, thank you for entertaining my crazy idea and for Year-Round Garden's support through my experiment. I am a stepmother of two young girls (8 and 5) and am pregnant with my first child due in July. I am an employee at a hospital and have increased risk of contact with potentially infected COVID patients. Needless to say, I am on high alert and always concerned about bringing the novel coronavirus
home with me and spreading it to my family.
I've seen UVC lights used in hospitals for years and remember seeing them when I was younger inside food processing plants. I did some research and discovered UVC lights (especially the spectrum between 240-280 nanometers) is on the list of approved sterilization practices for viral activity (link to FDA white paper is located here). As I learned through my initial research, UVC light disrupts the DNA of viruses but does not penetrate the dermal layer. Once you cross over 280 nanometers you are now in the UVB spectrum… which can penetrate the dermal layer just like the sun. After hours upon hours of research, I decided to purchase the grow tent and the light from you to make an at-home sterilization tent. You asked me over the phone how I use the tent and the light. Here's the best way I can describe the process.

I set the grow tent up just inside my house, by the garage door and near an electrical outlet. I mounted the UVC lightbulb inside the tent using a Home Depot "can light" that clamps to the top rail inside the tent. I then purchased a smart-socket and scheduled it to turn on everyday 30 minutes before I get home. When I come home from work (before seeing my family), I remove my scrubs and put them on hangers inside the UVC tent. I take my shoes off and place them upside down on the bottom of the tent. I prop my iPhone up by standing it against the edge of the tent and then zip the tent closed and walk away. I set the smart switch to turn off 2 hours after arriving home so I don't forget to turn it off (trying to save any way I can). From my research, two hours is more than enough time to sterilize my clothing and shoes without being wasteful from an energy perspective. I've attached some photos of my setup to this email.

What this does for me is simple. It gives me the peace of mind that I have done everything in my power to reduce the risk of bringing the novel coronavirus home with me and spreading it to my family. All in, I spent just under $150 and 1 hour of my time (most of that was used on figuring out how to set up the tent :). I know that may be a barrier to some on price – but the peace of mind is more than worth it for me. I would think there are hundreds, if not thousands, of other workers like me that seek some type of solution to sterilize their scrubs and shoes. If you feel this would be helpful to others, please feel free to share the contents of my email and what I purchased. I would only ask that you please redact my contact information.

Thank you again Jason. I hope the trend towards at-home growing of fruits and vegetables continues and that you see much success as a small business owner.
---


The Big Announcement

Once her fellow employees heard of what she built, they purchased sterilization tent supplies as well. Eventually, we ran out of tents and bulbs. Which leads us to our big announcement.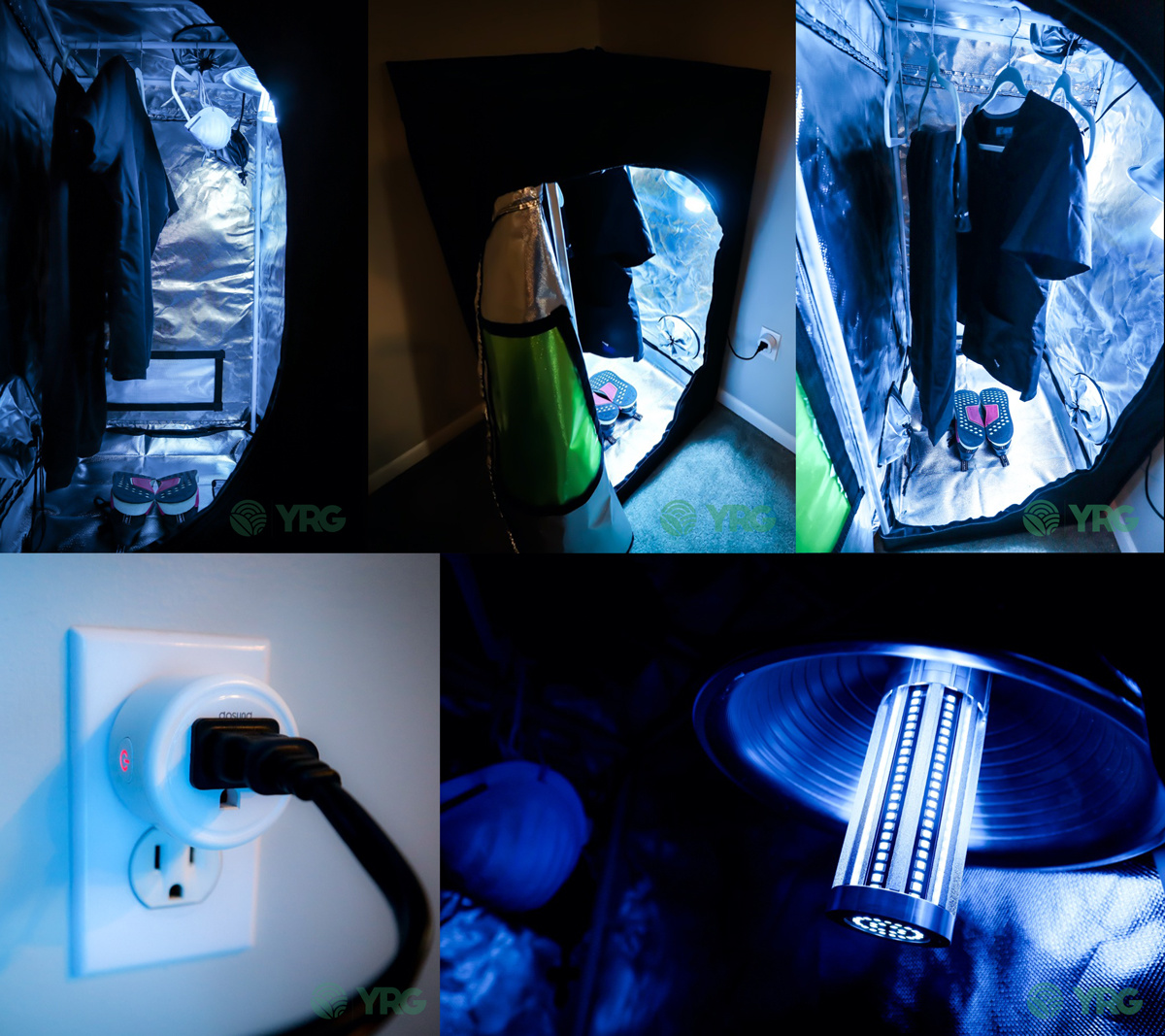 YRG is now offering all of the items listed in our customer's email on our website, year-roundgarden.com. We have sourced over 450 grow tents and over 500 UVC lights currently in warehouses all around the United States and are continually seeking even more due to the increased demand.
Because we are a small business and cannot stock that many tents and lights at one time, we will have an approximately 2-week lead time on all grow tent and UVC bulb orders. While, in some cases, all the supplies arrive sooner, we want everyone to be aware and respectful of the increased demand over the coming weeks. If you place an order, you will not be left behind. If the stock completely runs out, we will source more.
How Do I Get The Supplies?
For convenience, we have listed all the parts needed to make the same at-home sterilization tent below. You can purchase the parts individually (or as a package) through year-roundgarden.com or call us at (913) 397-0594 and place your order over the phone. Delivery options include shipping direct to your home and/or in-store pickup. In-store pickups will be scheduled according to demand.
All-In-One Packages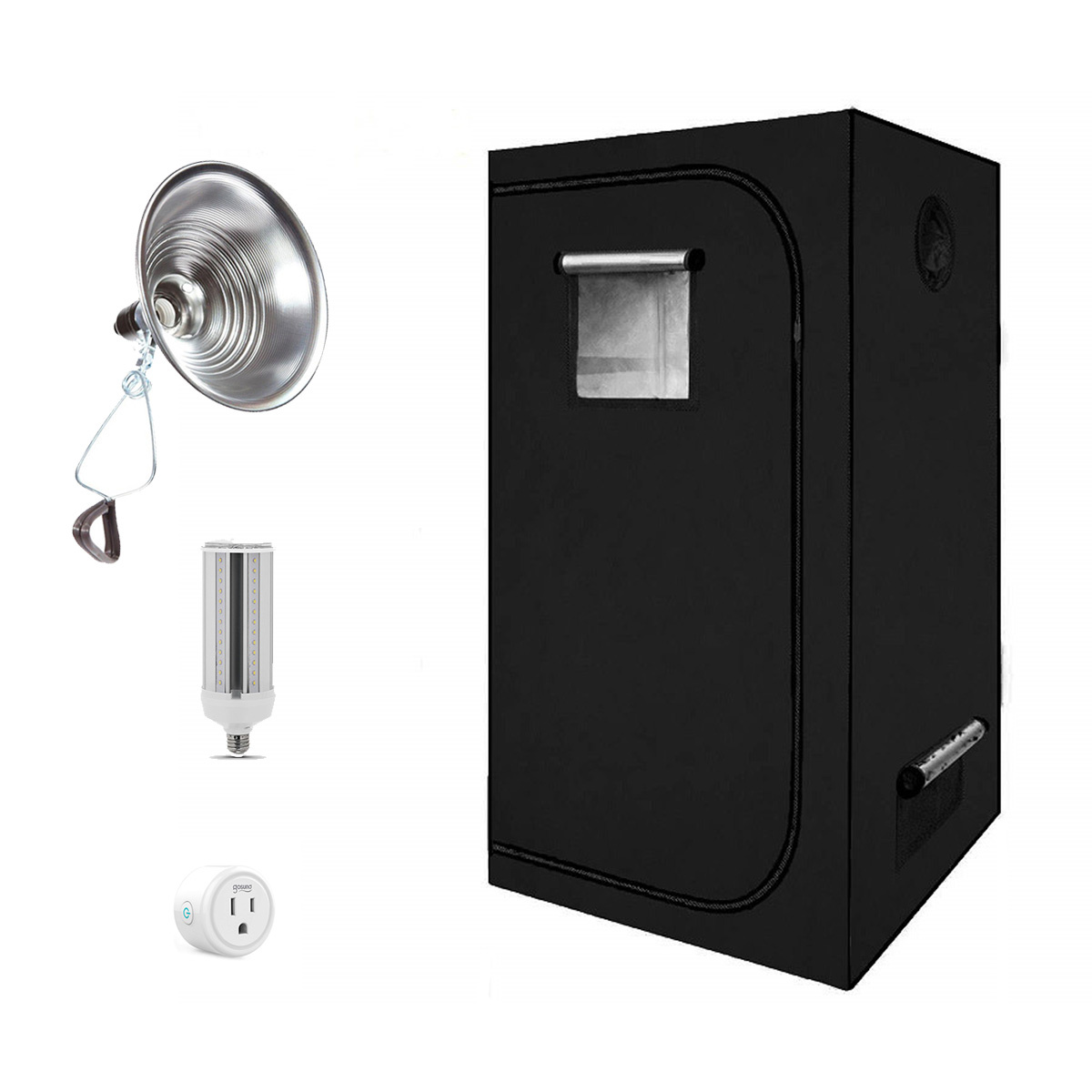 We are offering the entire package as an all-in-one system for $139.00. This package includes the following components.
(1) 2 ft. x 2 ft. mylar-lined grow tent
(1) 60 watt UVC "corncob" bulb
(1) Aluminum canister light
(1) Smart switch
A La Carte Products
Our Disclaimer
We are not doctors, scientists or medical professionals at YRG and we don't make any claims that this type of setup will keep you 100% protected against COVID-19. What we do know is that we had the equipment available and a customer in the healthcare field found a way to put our merchandise together in a way that made her feel safe. When her colleagues quickly followed suit, we felt it only made sense to deliver those products to our customers on a larger scale and in packages that removed any guesswork.