Login
Log in if you have an account
Dont have an account? Register
What is hydroponics?
18 Sep 2019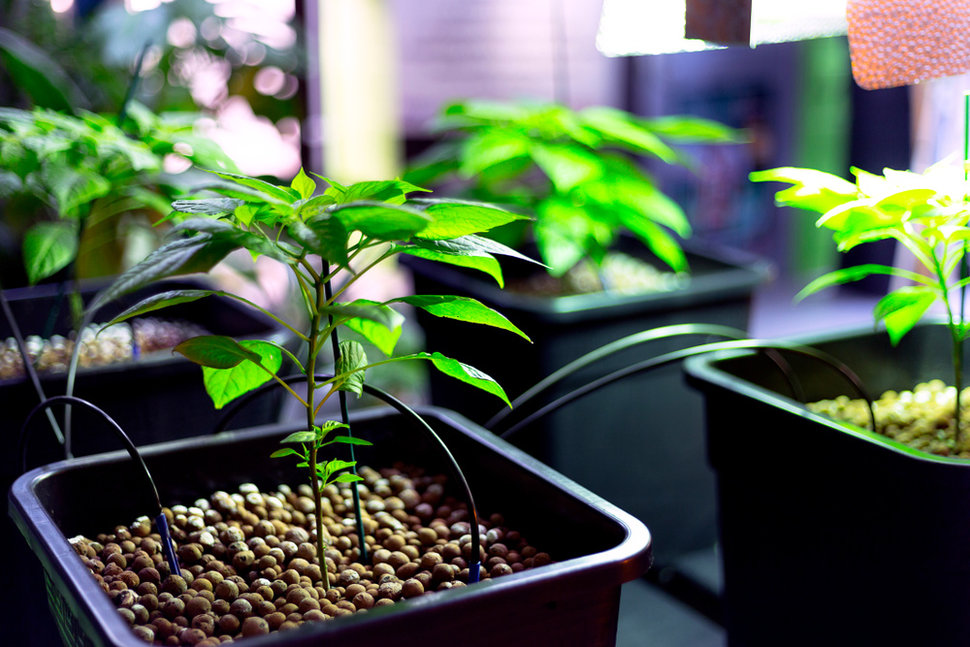 WHAT IS HYDROPONICS?
Hydroponics is the term used to describe the ways in which plants can be raised without soil. These methods also are known as soilless gardening and include growing crops in containers filled with water and any one of a number of non-soil mediums.
Hydroponic Systems
Static Solution Culture
In static solution culture, plants are grown in containers of nutrient solution, such as glass Mason jars (typically, in-home applications), plastic buckets, tubs, or tanks. The solution is usually gently aerated but may be un-aerated. If un-aerated, the solution level is kept low enough that enough roots are above the solution so they get adequate oxygen. Each plant is placed in a hole in the lid of the reservoir. There can be one to many plants per reservoir, and reservoir size can be increased as plant size increases.
Continuous-flow solution culture — NFT technique
In continuous-flow solution culture, the nutrient solution constantly flows past the roots. It is much easier to automate than the static solution culture because sampling and adjustments to the temperature and nutrient concentrations can be made in a large storage tank that has potential to serve thousands of plants. A properly designed NFT system is based on using the right channel slope, the right flow rate, and the right channel length. The main advantage of the NFT system over other forms of hydroponics is that the plant roots are exposed to adequate supplies of water, oxygen, and nutrients.
Passive Sub-Irrigation
Passive sub-irrigation, also known as passive hydroponics or semi-hydroponics, is a method wherein plants are grown in an inert porous medium that transports water and fertilizer to the roots by capillary action from a separate reservoir as necessary, reducing labor and providing a constant supply of water to the roots. In the simplest method, the pot sits in a shallow solution of fertilizer and water or on a capillary mat saturated with nutrient solution. The various hydroponic media available, such as expanded clay and coconut husk, contain more air space than more traditional potting mixes, delivering increased oxygen to the roots, which is important in epiphytic plants such as orchids and bromeliads, whose roots are exposed to the air in nature. Additional advantages of passive hydroponics are the reduction of root rot and the additional ambient humidity provided through evaporations.
Ebb and flow or flood and drain
In its simplest form, there is a tray above a reservoir of nutrient solution. Either the tray is filled with growing medium (clay granules being the most common) and then plant directly or place the pot over medium, stand in the tray. At regular intervals, a simple timer causes a pump to fill the upper tray with nutrient solution, after which the solution drains back down into the reservoir. This keeps the medium regularly flushed with nutrients and air. Once the upper tray fills past the drain stop, it begins recirculating the water until the timer turns the pump off, and the water in the upper tray drains back into the reservoirs.
Run to Waist
This method can be set up in various configurations. In its simplest form, a nutrient-and-water solution is manually applied one or more times per day to a container of inert growing media, such as rockwool, perlite, vermiculite, coco fiber, or sand. In a slightly more complex system, it is automated with a delivery pump, a timer and irrigation tubing to deliver nutrient solution with a delivery frequency that is governed by the key parameters of plant size, plant growing stage, climate, substrate, and substrate conductivity, pH, and water content.
Commercial hydroponics production of large plants like tomatoes, cucumber, and peppers uses one form or another of run-to-waste hydroponics.
Deep Water Culture
The hydroponic method of plant production by means of suspending the plant roots in a solution of nutrient-rich, oxygenated water. Traditional methods favor the use of plastic buckets and large containers with the plant contained in a net pot suspended from the lid and the roots suspended in the nutrient solution. The solution is oxygen saturated by an air pump combined with porous stones. With this method, the plants grow much faster because of the high amount of oxygen that the roots receive.
Top-Fed Deep Water Culture
Top-fed deep water culture is a technique involving delivering highly oxygenated nutrient solution direct to the root zone of plants. While deep water culture involves the plant roots hanging down into a reservoir of nutrient solution, in top-fed deep water culture the solution is pumped from the reservoir up to the roots (top feeding). The water is released over the plant's roots and then runs back into the reservoir below in a constantly recirculating system. As with deep water culture, there is an air stone in the reservoir that pumps air into the water via a hose from outside the reservoir. The air stone helps add oxygen to the water. Both the air stone and the water pump run 24 hours a day.
Aeroponics
Aeroponics is a system wherein roots are continuously or discontinuously kept in an environment saturated with fine drops (a mist or aerosol) of nutrient solution. The method requires no substrate and entails growing plants with their roots suspended in a deep air or growth chamber with the roots periodically wetted with a fine mist of atomized nutrients. Excellent aeration is the main advantage of aeroponics. Aeroponic techniques have proven to be commercially successful for propagation, seed germination, seed potato production, tomato production, leaf crops, and micro-greens. Another distinct advantage of aeroponics over hydroponics is that any species of plants can be grown in a true aeroponic system because the micro environment of an aeroponic can be finely controlled.
Fogponics
Fogponics is a derivation of aeroponics wherein the nutrient solution is aerosolized by a diaphragm vibrating at ultrasonic frequencies. Solution droplets produced by this method tend to be 5–10 µm in diameter, smaller than those produced by forcing a nutrient solution through pressurized nozzles, as in aeroponics. The smaller size of the droplets allows them to diffuse through the air more easily, and deliver nutrients to the roots without limiting their access to oxygen.